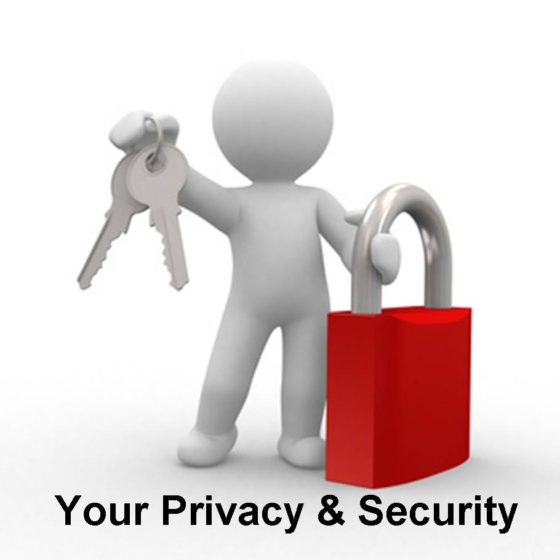 The Privacy of Customikes Website Visitors is Important to Us
At Customikes.com (Customikes), we recognize that the privacy of your personal information is important. Below, please find information about what types of personal information we receive and collect when you use and visit the Customikes website, and how we safeguard your information. We will never sell your personal information to third parties.
Log Files
As with most other websites, we collect and use the data contained in log files. The information in these files includes your IP (internet protocol) address, your ISP (internet service provider), such as AOL or Cox Cable), the browser you used to visit our site (such as Internet Explorer or Chrome), your location, the date and time you visited our site, and which Customikes.com pages you visited. This information is never shared with outside entities and is used exclusively for search engine optimization (SEO), search engine marketing (SEM), and other marketing and site content enhancements.
Cookies and Web Beacons
We use cookies to store information, such as your personal preferences when you visit our site. This may include showing you a single pop-up during your visit or permitting you to log in to some of our features, such as social media plugins.
Advertising
We also use third party advertisements on Customikes to support our site. Some of these advertisers may use technology such as cookies and web beacons when they advertise on our site, which will also send these advertisers (such as Google through the Google AdSense program) information including your IP address, your ISP, the browser you used to visit our site, and in some cases, whether you have Flash installed. This is generally used for geotargeting purposes (showing New Car Dealer ads in San Diego to someone visiting our site from an IP address in San Diego, for example) or showing certain ads based on specific sites visited (such as showing tire ads to someone who frequents tire sites).
Opt-In Email Newsletter
We offer visitors the option to subscribe to our free electronic newsletter, sent on behalf of our sites on occasion via email. The email addresses of our subscribers are never shared with third parties. Subscribers are offered a simple, one-click means to unsubscribe to the newsletter from within each individual email. We never send unsolicited offers to our subscribers unless they have specifically requested third-party advertisements via email. Our email newsletters are often "co-branded" with our automotive partners, and may contain partner content or third-party advertising offers, which may contain coding and tracking technology. This technology is used to track the marketing effectiveness of our email newsletter offers and they do not transmit any personal information to third parties. We also employ "anti-spam" features that block our newsletters from being sent or forwarded by known spamming entities. Our e-mail subscriber list is maintained and deployed from our internal and proprietary email database, servers, and via our email vendors such as MailChimp, GoDaddy , and/or others. Their own privacy policy and anti-spam policy applies to this policy.
Shopping and E-Commerce
We may offer merchandise and e-commerce to visitors through third-party vendors. Third-party privacy and merchandise policies are supplemental to this privacy policy. We offer our site visitors the ability to search for vehicle pricing quotes from dealers near an area they specify, through a third-party partner, and their privacy policies are supplemental to this privacy policy.
Security
This site incorporates appropriate safeguards to protect the security, integrity, completeness, accuracy, and privacy of the personal information we have collected. We have put reasonable precautions in place to protect information from loss, misuse, and alteration. Our security and privacy policies are periodically reviewed and enhanced as required and only authorized individuals have access to the information you provide us.
External Links
We provide links to various websites that we do not control, as well as to our sponsors. When you click on one of these links, you will be transferred out of our website and connected to the website of the organization or company that you selected. Even if an affiliation exists between our website and a third-party website, we exercise no control over linked sites. Each of these linked sites maintains its own independent privacy and data collection policies and procedures. If you visit a website that is linked to our site, you should consult that site's privacy policy before providing any personal information.
Use of Sites
By visiting Customikes, you acknowledge that you have read and understand our Privacy Policy and Terms of Service (if applicable). If you have any questions or wish to request additional information, you may send e-mail correspondence to the "contact" email listed on our site(s).
Thanks for Hanging at Customikes =D