Phishing pop up from what appears to be Microsoft Official. Locks up computer.
Have you ever heard of someones computer being locked up after a pop up? The person then explains how they had to call a number to unlock their computer. Pay over $300 just to get their computer back! I have heard of this happening. I even heard it happen to someone I saw as knowing a lot about computers who called the number. I never thought this would happen to me. It did happen! I will walk you through what happened and direct you to the steps I took.
As I was going through my email. I haphazardly clicked on something and the page below popped up.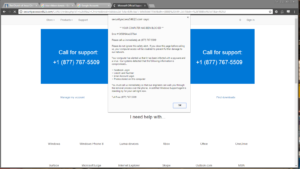 I could not believe it! I had only heard of this happening. I did not know what to do. I thought of calling the number. I decided I better not call the number(that is exactly what they want you to do). The mouse would not close out the search engine. It would not let me click on anything. It did appear as though my computer was locked up. I hit CTRL+ALT+DEL  on the keyboard. That allowed me to open the windows task manager. I closed the search engine. I immediately ran Malwarebytes to search for anything malicious. I ran the anti virus on my computer. Nothing came up on the anti virus. One piece came up on Malwarebytes.
I began searching the web for this phone number. I came across a great article 877-767-5509 Microsfot Pop-up. It provides processes of what to do for beginning to advanced skill set levels of computer users. The advanced set of steps are laid out in a way that anyone should be able to follow. Though if you are uncomfortable with any of the steps. Please do not attempt them. When you get to the part of looking for registry errors. Each one needs to be searched for individually. I searched for each one and used a registry cleaner. Feel free to use what registry cleaner you are comfortable with.
Do not ever call the number. That is when you and your files are doomed! They log in and remote to your computer. Lock it up and hold them ransom. Until you pay some gross number of dollars. Even when you pay. I have been told they still leave possible viruses and so forth on your computer. Do not panic. Remember CTRL+ALT+DEL and task manager.
Malwarebytes for the free version appears to be a reactive program. Which means it takes action when you tell it to scan for problems. Versus purchasing it. The purchased version appears to operate as a proactive program. Warning you of what you are clicking on. Giving you a possible prevention. It depends on your level of comfort of computer to purchase or not to purchase.
Advanced Systems Care has a very good free version. Though the registry cleaner is available through the paid version from what I have experienced.
Below are links for Malwarebytes and Advanced Systems Care.
https://www.malwarebytes.com/
http://www.iobit.com/en/advancedsystemcarepro.php?AFF=40025&__c=1