Hi Everyone.
My name is Johnny and you may see some of my artwork from time to time here on Customikes.
I love photography of all types and so you will see a mix of photos from me. I will shoot anything that interests me, from fish and pets, to local car shows and feature type work that you might see in a magazine.  I love to shoot and have many different interests, so anything is fair game.
I am fortunate enough to have a couple of Kustom Cars including my 1962 Thunderbird and a chopped 1949 Chevy.  I also have a couple other project cars in the back 40.  I hope to get to them, but they will probably end up sold to fund other projects.
Cameras

I shoot with are the Cannon 5DIII, Fuji X100S

.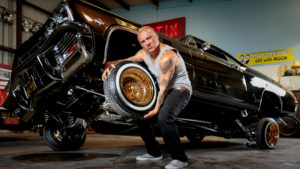 Lenses

I am fortunate enough to have in my arsenal the best lenses I can afford. The line up consists of the Cannon

L

Series 17-24 5.6 , Cannon

L

Series 24-70 II 2.8 , Cannon

L

Series 70-200 II 2.8 IS, Cannon

L

Series 85 1.2. I have also gotten into lighting allot more in the last couple of years and have a set of Einstein Flashes by 

Paul C. Buff

 .  I love them.  They make really big light on a budget.  With the battery packs, I can go just about anywhere with them and set up is easy.  I have carried them into a number of locations to shoot models and they are really easy to pack.  I also have a set of small on camera flashes I use with remotes to do subtle spot lighting of interiors and undercarrages.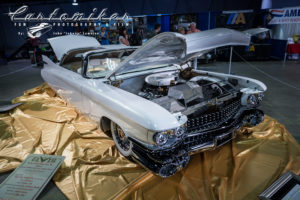 Im truly very lucky to be part of this great team here at Customikes. We have grown over the years to become a great bunch of friends and we push each other and learn from each other.  We all have lives outside of Customikes and are fortunate enough to have a mentor like Mike, who doesn't ask for anything except for us to have fun doing what we love. He gives us space to create and grow our crafts at our own pace and I am proud to call him a friend and Brotha.  Below are just some more Fotos that I have made over the last few years here at Customikes.  I personally thank each and everyone of you for spending your time with us.  You are all the reason we spend our time doing this, so THANK YOU.  
– Johnny