Customikes chopping and modifying David Wilson kool split window that he got from our mutual friend and Customikes DTM; Jim St Pierre
As many of you might have read before, We almost used it when we chopped Jim's 49 Mercury coupe. In the end Jim decided he liked the Merc window better, so he gave this 1938 Hupmobile split window, selflessly to David for use on his top chop!!
When I put it up to see how it met the 40 Chevy lines, we ended up with similar issues as we did on the Merc. The window have kind of "sad eye" look and the bottom lip does not flow well with the Chevrolet lines,…. Hmmm what to do ?!!!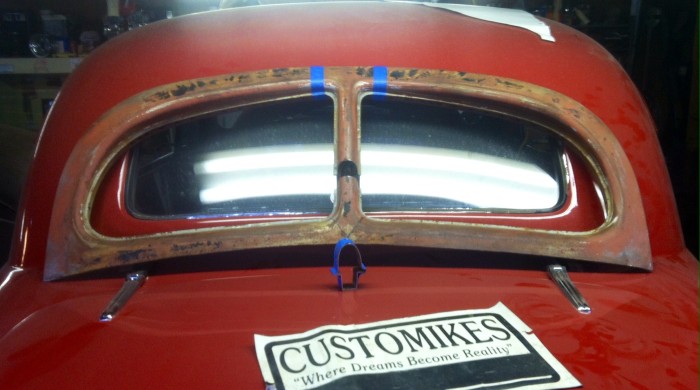 Well since I'd already spent some time thinking about it during Jim's chop, I went with a similar solution.  I took out an inch at each place with the blue tape showing, cut reliefs in the bottom center at the base of the center post. (Make sure you select areas that have the closest match in contour on each side of the cut to minimize your fit work)  Then we rotated and compressed the frames into submission while carefully, keeping all 5 pieces in alignment. Now we start tacking it back together, while constantly checking it against the ride to make sure we are accomplishing our goal.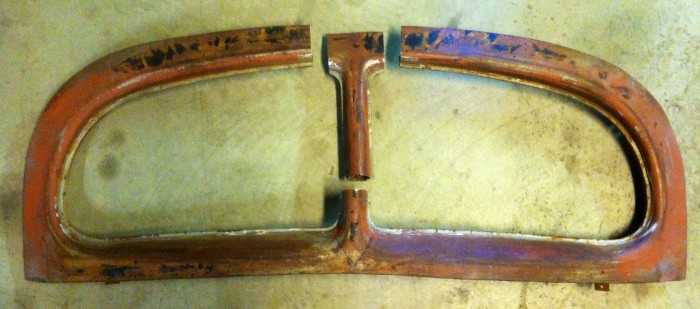 As you can see below, Its now chopped about an inch and have a pleasing flow with the Chevy's roof lines =D
From here there's many other boring grinding, shaping, straightening, shrinking/stretching, filling and sanding operations to complete the swap out during a chop top, which we might show some of later as we make David's awesome  40 Chevy 5 window into a 3 window chop top kustom.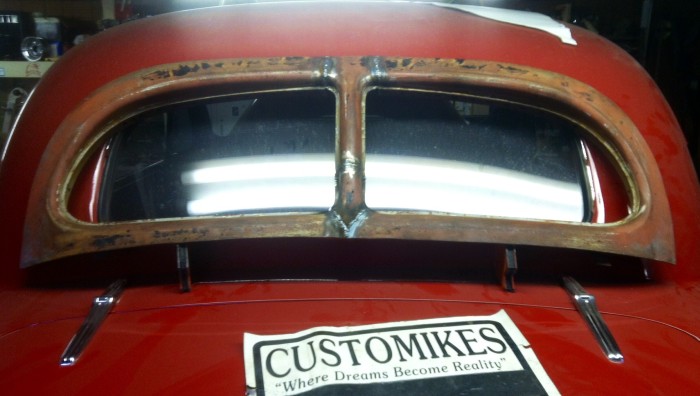 We hope that this little article at least open your mind to other kustomizing opportunities which you might not have considered for your ride
Thanks for hanging at Customikes!!
Post by K. Mikael Wallin on behalf of www.Customikes.com.