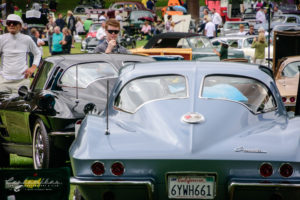 On page four we will enjoy more of some exceptionally rare rides such as the 1963 Split Window Corvettes. I think there was seven of them at the show!

Another rarity is the MB 300 SL Gullwings. I had the pleasure to shoot 4 of them at the same time, among a sea of 300 SL roadsters. What a privilege!! Here's a link to more about Gullwing Doors.
It was so exciting to capture two of Ernie Immerso's world famous AMBR winning rides. One of which I have had the distinct pleasure to exhibit with in 1989 with the MiniMerc. Boy, it totally blew my mind back then, and seeing his Golden Star and Orange Twist together again did it to me again =D There's a link to a nice Hemmings article in the picture caption  for you.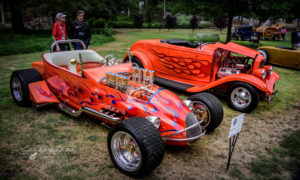 Here's a small quote from the article:
"On October 29, Los Angeles-based auction company Braun, Inc. auctioned off Ermie Immerso's 1932 Ford roadster hot rod, dubbed Orange Twist, to the Petersen Automotive Museum for $522,625. Braun claims the price is a world record for hot rods.
Immerso, who at one point worked for Holman-Moody and Carroll Shelby and raced at Bonneville in the 1950s (he joined the 200 Club on his first try, according to Dean Batchelor), entered the elite crowd of multiple winners of the America's Most Beautiful Roadster trophy in 1989 when his Golden Star, a 1925 T-bucket with a Ford Indy Cammer V-8 engine, won for the first time. The same car repeated two years later. Both followed the Orange Twist, a 1932 Ford Model 18 roadster using the original steel body and Ardun heads on the flathead V-8, which won the AMBR title in 1988"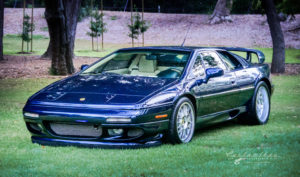 We also captured several EU classics, race cars and luxury rides. Some we will do a more in-depth review of in upcoming blogs =D
Come on and join me, on our fun and continuing journey thru SMMC =D
[su_button url="http://customikes.com/smmc-16-page-3/" target="blank" style="3d" size="10″ wide="yes" center="yes" text_shadow="0px 0px 0px #000000″ desc="SMMC -16 Coverage Page 3″]Click here for,[/su_button]
About the San Marino Motor Classic 
The San Marino Motor Classic is a concours-level collector car show and competition that features a broad array of motorcars that span more than a century. Co-founded by Aaron Weiss, Paul Colony and Ben Reiling, it is the successor of the Los Angeles Concours d'Elegance. For more information including directions, a list of past winners, competing classes and to purchase tickets visit: www.sanmarinomotorclassic.com.
[su_button url="http://customikes.com/san-marino-motor-classic/" target="blank" style="3d" size="10″ wide="yes" center="yes" text_shadow="0px 0px 0px #000000″ desc="2015 San Marino Motor Classic Coverage"]Click here for,[/su_button]
Thanks for hanging at Customikes!
We appreciate your support by sharing our content with your friends and family.
All Customikes images are available, for a reasonable fee, in print or rights managed digital format upon request.
Please see examples at our print counter:
[su_button url="http://customikes.com/print-services-d/" target="blank" style="3d" size="10″ wide="yes" center="yes" text_shadow="0px 0px 0px #000000″ desc="Customikes Print Counter"]Click here for,[/su_button]