Thorsten Koch/Derthor Photografix First Blog!!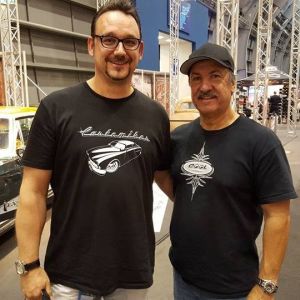 Met John D'Agostino at the Essen Motorshow
last year, thanks for the picture John
I would like to introduce myself and answer some questions… Who is Thorsten Koch/Derthor Photografix, where is he coming from, what is he doing…
Ich möchte mich gerne bei Euch vorstellen… Wer ist eigentlich Thorsten Koch/Derthor Photografix, woher kommt er, was macht er…..
Customikes kustom kulture coverage is international. Since my primary responsibility are to serve Germany and EU, and my native language is German, to serve my unique segment of Customikes audience I want to blog most of the time in English and German.
So,.. Please be considerate with my English translations, especially with slang or technical terms. I'm learning as I go 😉 Thank you for helping us unite Customikes kustom kulture enthusiasts worldwide!
Um euch zu zeigen das wir international sind, werde ich versuchen meinen Blog in Deutsch und Englisch zu schreiben, also seid bitte "rücksichtsvoll" bezüglich meiner Fehler im Englischen 😉 Danke!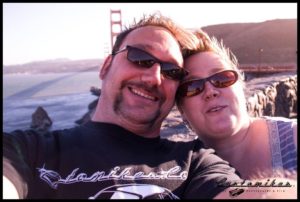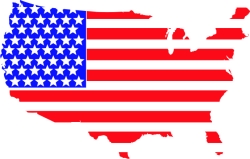 Ok, let´s turn back the time… We are now in 1986 or 1987, I do not remember 100%.
One of my buddys asked me if I want to come with him to a little car show that was organised by a tuning shop nearby. After we arrived, I saw a lot of cars I've never seen before, like the Hot Rod based on a 1952 Mercedes 170S build by Hugo Vervliet, or a typical 80´s van based on an Opel Bedford, or a lot of "customized" Beetles and so many other wild cars from the 80's. All of you that have built cars in the 80's know what I mean 😀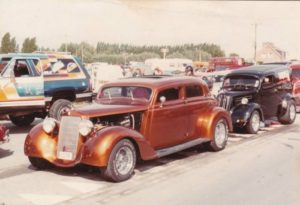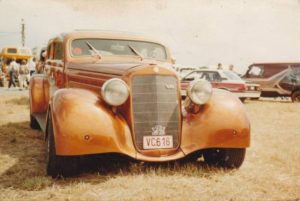 After that I was infected by the "not normal car virus". I was looking for magazines and everything else about cars like that. I found a magazine in Germany named the "Chromes and flames" and I bought it every time I got the chance. In one issue, I found an advertising display from the "Belgium Streetcruisers Association". It was the biggest European custom car club in that time, and I saw that the German district manager lived only two towns away. I got in contact with Mike Lensing and after I visited him I became a member of the BSCA.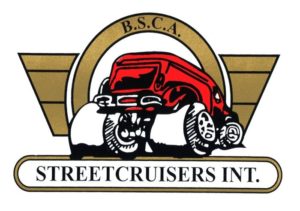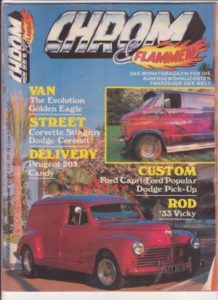 Mike was the owner of a small gas station and he was building Kustom Beetles under the company name ML-Tuning. Every free Saturday I drove with my little motorbike to his gas station to help Mike and learn a little bit about special cars.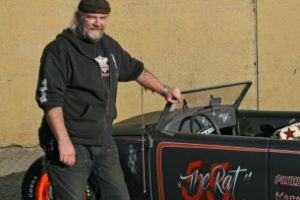 That was when I was 16 years old.
I began to visit some car shows in Belgium and the Netherlands. Around this time I also began  my interest in photography. I started with a small pocket camera that I got on my birthday from my dad, but the pictures were not so good so I decided to get a job on a farm in my holidays to earn the money for my first reflex camera.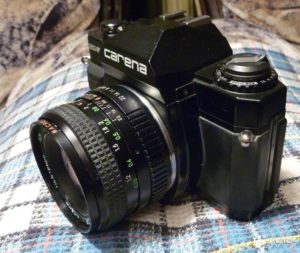 My parents didn't like that I was so interested in cars and that's why I started an education as a metal worker instead of a car mechanic.
After that, I worked at the german Army for four years where I got the chance to study airbrush design, which took me back again to the cars and the photography. I started again to work at cars and began to customize my Ford Escort a little bit and gave him an airbrush.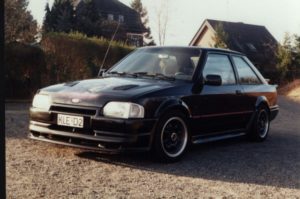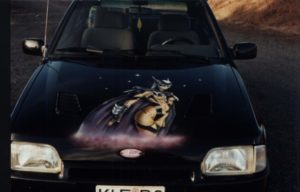 In 2006 I bought my first digital reflex cam and visited car shows and meetings again. The interests of building cars came back and I started to build a Volksrod. I used my job as a technical draftsman to construct some parts for the Volksrod project and my contact to Mike Lensing also came back again, because he was also building a Volksrods and needed some of the parts that I built.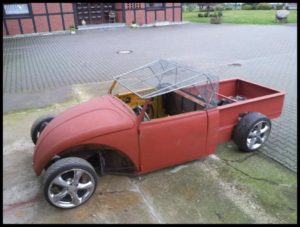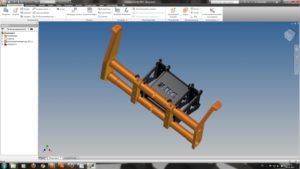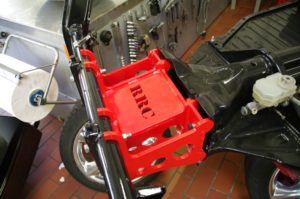 In 2012 I got married for the second time and on our honeymoon we visited Los Angeles and San Francisco. One year before I got the first contact to Mikael Wallin "the crazyswede" via the Internet and Facebook. So I decided to contact him to ask for good places and little car shows to take a few nice pictures. He invited us for a dinner and we all got to know each other in person and he made me the offer to be a part of the Customikes team.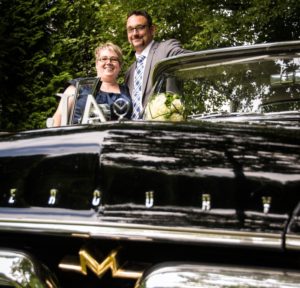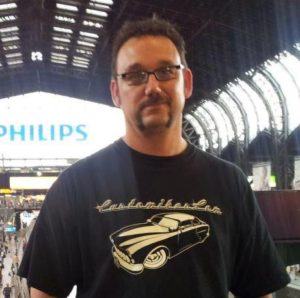 In 2013 I sold my Volksrod project to Mike to get a little bit of money to buy an American classic car from the 50´s or the 60´s. I searched at the Internet and found "Vetabelle", my 1954 Lincoln Capri that I am currently restoring.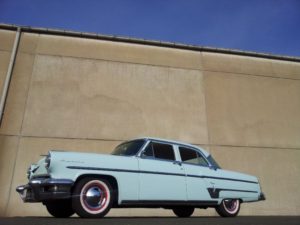 "Vetabelle" before I started the restauration.More about
the history of this car later
Hopefully I´ll get her back onto the street in the next year. I think that's it for the moment.  I hope some of you are interested enough to read/see more in the future.
Thanks for hanging at Customikes, Thorsten
Thanks for checking out this blog entry and feel free to comment and/or share it!!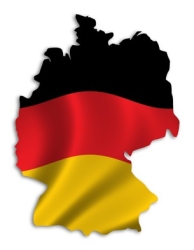 Dann wollen wir mal ein wenig die Zeit zurück drehen.
Wir befinden uns im Jahr 1986 oder 1987, so ganz genau weiß ich das nicht mehr. Ein Freund fragte mich ob ich nicht Lust hätte mit ihm zusammen zu einem Tuner in der Gegend zu fahren weil dort eine Autoshow statt finden sollte.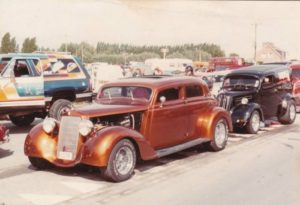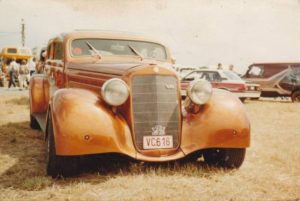 Dort angekommen sah ich zum ersten mal umgebaute Fahrzeuge der "besonderen Art", wie zum Beispiel den Mercedes Rod von Hugo Vervliet,dem Gründer der "Belgium Streetcruisers Association", einen Van auf Basis eines Opel Bedford, einige Käfer Umbauten und noch viele weitere wilden Umbauten.
Wer in den achzigern geschraubt hat weiß was ich meine. Von da an war ich infiziert und versuchte alles über solche Autos zu erfahren. Ich lernte Zeitungen kennen wie Chrom und Flammen und kaufte mir damals jede Ausgabe die ich bekommen konnte. In einer Ausgabe fand ich dann eine Anzeige der "Belgium Streetcruisers Association" in der auch die jeweiligen District Manager genannt wurden und so bekam ich Kontakt zu Mike Lensing, der zwei Ortschaften weiter wohnte und damals den deutschsprachigen Raum des BSCA betreute.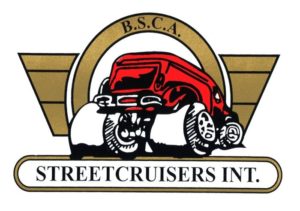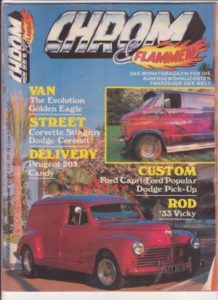 Mike betrieb damals eine kleine Tankstelle und baute Kustoms auf Käfer Basis unter dem Namen ML Tuning. Ich wurde Mitglied beim BSCA und half jedes Wochenende bei Mike an der Tankstelle. Das war im alter von 16 Jahren. 1988 kamen dann die ersten Car Shows und Meetings in Deutschland und den Benelux Ländern dazu.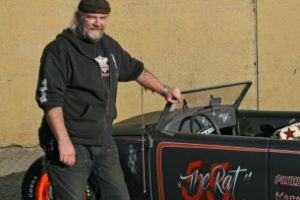 Zu dieser Zeit fing ich auch mit der Fotografie an. Zuerst mit einer Pocket Kamera die ich damals von meinem Vater zum Geburtstag bekommen hatte.Diese war aber irgendwann nicht mehr gut genug und ich fing in den Ferien an auf einem Bauernhof zu arbeiten um dort das Geld für eine Spiegelreflex Kamera zu verdienen.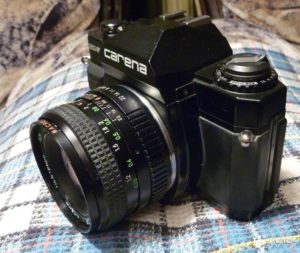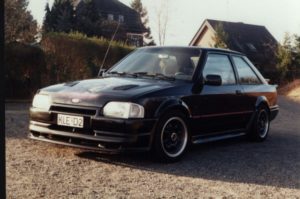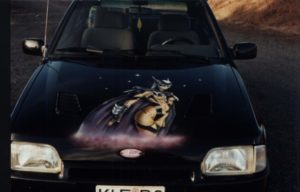 Meine Eltern fanden mein Interesse an den Autos nicht so gut und so machte ich eine Ausbildung zum Schlosser und nicht zum KFZ-Mechaniker. Dann folgte die Bundeswehr, wo ich vier Jahre in der Instandsetzung tätig war. Während der Bundeswehrzeit begann ich ein Studium zum Airbrush-Designer, welches mich dann auch wieder auf die Fotografie zurück brachte. Ich fing auch wieder an, an Autos zu schrauben und baute mir einen Ford Escort optisch etwas um und verzierte ihn mit einem Airbrush.
Nach einigen ruhigeren Jahren fing ich 2006 nach de Kauf meiner ersten digitalen Spiegelreflex Kamera mit der Fotografie erneut an und besuchte auch wieder Car Shows und Meetings. Das Interesse an außergewöhnlichen Autos kehrte auch zurück. Ich begann mit dem Bau eines Volksrods und da ich beruflich inzwischen als technischer Zeichner tätig war, konstruierte ich auch diverse Teile selber.Das brachte auch meinen Kontakt bzw. die Freundschaft zu Mike Lensing zurück, nur das heute ich ihm einige Dinge zeigen konnte und wir uns so sehr gut ergänzten.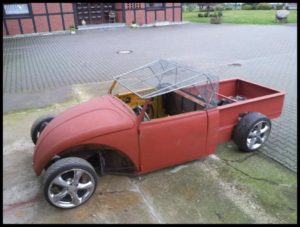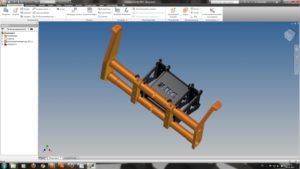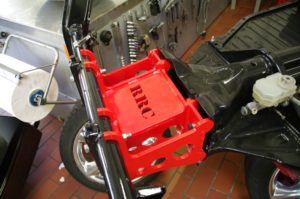 Im Jahr 2012 wurde zum zweiten mal geheiratet und die Hochzeitsreise war für Los Angeles und San Francisco geplant. Ich hatte über das Internet bzw. Facebook ungefähr ein Jahr zuvor Mikael Wallin, the crazyswede, kennegelernt und kontaktierte ihn mit der Bitte um Tipps für gute Car Shows um dort ein paar Bilder machen zu können. Er lud uns zum Dinner ein, wir lernten uns endlich persönlich kennen und er machte mir das Angebot ein Teil des Customikes Teams zu werden.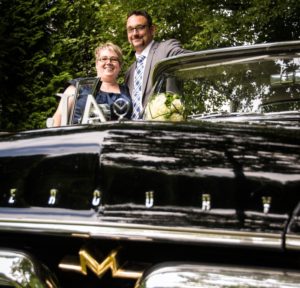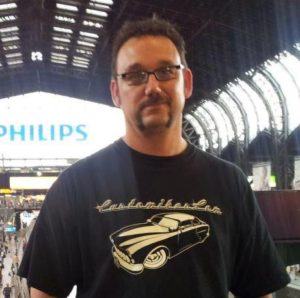 2013 entschied ich mich mein Volksrod Projekt zu verkaufen und mir ein amerikanisches Classic car zu kaufen. Das Volksrod Projekt kaufte mein Freund Mike, der es auf seinem Weg weiter baut und ich suchte im Internet nach einem Fahrzeug aus den 50ern oder 60ern. Durch Zufall fand ich dabei "Vetabelle", meinen 1954er Lincoln Capri, den ich zur Zeit noch restauriere.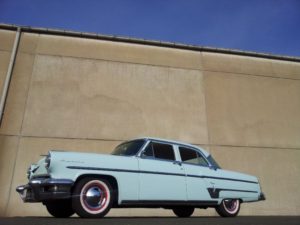 Ich hoffe das ich die alte Lady bis nächstes Jahr endlich wieder auf der Strasse habe. Ich denke das ist erst mal genug und fände es toll wenn ihr in Zukunft hier öfters vorbei schaut.
Thanks for hanging at Customikes, Thorsten