Every once in a while at one of the many car shows I attend each year I run across a car that really catches my attention. This year at the 2015 Billetproof Car Show in Antioch California it was a fat fendered 42 Ford Coupe.
The cars stance, shade of orange, and excellent placement of scallops in off white with metal flake mixed in set this beauty apart from the rest of the cars. Some great pin-striping in all the right spots tied this kool kustom together. The owner's son (Ryan aka The Cast Iron Philosopher) shared the cars history with us on a different Facebook post…..
"….it's a 1942 Ford business coupe and it was one of the last built in 1942. Ford stopped building civilian vehicles on 2/1/1942, after which only military vehicles were made. It was one of 11 Fords sold in California in 1943. It is titled as a 1943 and was first sold on 3/3/1943 in Fresno CA. It was originally equipped with a flathead 6, had only one taillight, and sports a grille like the one found on a 46 Ford which it still sports today. This Ford was purchased from the original owner's grandson in 1982 and has been in the family ever since. The grandson explained the car's history at the time of purchase and our information has been confirmed by Karen Brown, a Ford Research Unit Representative of Ford's North American Customer Relationship Center, using the VIN stamped on the axle hump at the rear of the frame. So technically it's a 1943 based on the title.
My dad put the 1946 Oregon plates on it while he lived in Oregon, but he's in the process of replacing them with the appropriate 1941 California YOM plates now that he's back in CA. They feature a "19 CALIFORNIA 42" full-length upper plate topped with a "V" tab to designate 1943."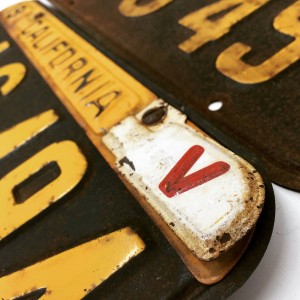 Ryan also said that his dad performed all the work with the exception of the pin-striping and seat upholstery. What a talented guy!
It sure got the attention of the Swanx Car Club who awarded it the Best Suede "finer in primer" trophy.  Well deserved!
Thanks Ryan for sharing your knowledge of the cars journey, history and a couple of your images as well as  your dad for bringing out his awesome car!
Thanks for hanging at Customikes !!