Wow what a kool weekend!! We made the paper!!!
Updates and new pictures coming in at the bottom of blog =D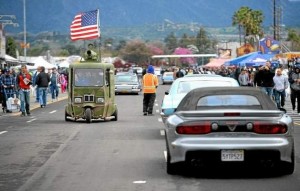 We went ahead and made the trailer mods to take our 1962 Cushman Westcoaster to Pomona Swap Meet,  against the weather predictions of rain. Yes it did sprinkle a little but the sun came out on Sunday and lit us up. I'm glad we did. Full story below!!
Thank you Micah Escamilla (Daily Bulletin staff photographer) for your great shot and taking the time to chat with us! =D
A little more about our fun ride: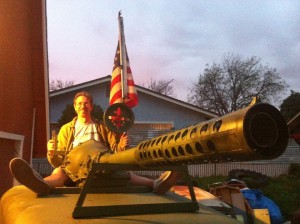 This latest configuration as a Horsetown USA Defender Vehicle/ Norco Wave Swat Team ride was initiated after my horse Prince tore off the purple teddy bear fur (more on that story below) and generally made it look really bad.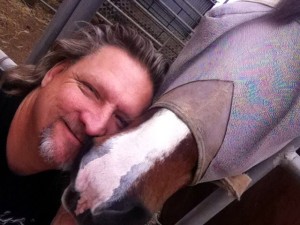 It sat for a long time and needed some TLC when my friend Bosse Johansson visited from Sweden. Yes, he's a little "eccentric" like most Swede's that come here =0… So he asked me if we should do something fun with it instead as it now was a blank canvas,… 
Bosse started to look around the shop and asked if he could use this or that and then told me where he was going with it in the next three days,… Needless to say the craziness started and we fed of each other with more silly ideas and that is how this "Norco Wave Swat Team" version was created =D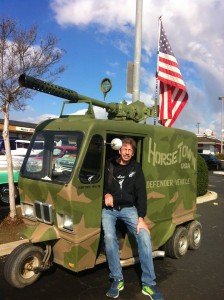 I want to thank the awesome city of Norco/ Horsetown USA (yes they did trademark that 😉 for the inspiration!!  Our great and also unique equestrian community have enhanced our families lives since we moved here in 2003 by embracing its fun and sometimes unique citizens!!!
I bought this silly thing from my friend Paul Murphy about a decade ago. He built the "Barney version" using purple teddy bear fur, he found in a dumpster, behind an abandoned teddy bear factory =D He even put a white shag carpet on top and a BMW Grille on it !!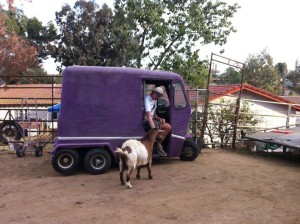 We used it in town instead of a golf cart. Mainly to take my two awesome girls to school and back. The first time I took them they were horrified and embarrassed. So much so that they asked to be dropped off a block away,… a few school mates saw them anyway and the news spread like wild fire at school… I got a call during their last break asking me to if I could pick em' up in the purple mobile,…. I questioned why they would like to be embarrassed by it again??!!
They said everyone at school wanted to see it. That afternoon I pulled this "purple monster" into the school pick up zone making a ruckus…
Both my daughters were beaming and brought another friend with them and everyone was hovering while they all got in. I guess a crusty old car dad do a few things right everyone and then =D
The build recipe:
Bosse spent three days, $ 50.00 of materials and some "scrap from the barn" The gun is made with a th-350 automatic transmission case, an exhaust pipe, a pulley with the cross hairs cut into it, a drilled leaf blower attachment makes up the muzzle, the trigger handle is a broken wood clamp and the seat is a folding chair with its legs cut off and bolted to the roof.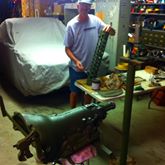 It was a hit with the Swap Meet staff/teams and Pomona PD officers serving our kustom Kulture at Pomona Swap Meet, just as it also has been in Norco where I've been riding it around in both configurations for years =D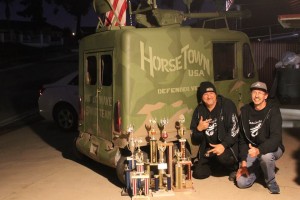 Both my girls are now worldly young women on their own, so I do not need it anymore. So a Father/ Daughter Team out of West Covina decided that they wanted to carry on this fun adventure!! After many discussions between father and daughter, a test drive and a final plea from her, they bought it to restore it using their kool vision of what it might look like next… =D
Cannot wait to see what they do with it!!
Thanks for hanging at Customikes!!!!
Thanks to everyone that have been involved in this fun ride. Thank you to Derrick and the awesome team/staff at Pomona Swap Meet. You are all appreciated and your time is valued! You helped put a smile on thousands of peoples faces. =D
More about Cushmans and resources/ club activities here: http://www.cushmanclubofamerica.com/index.html
Updates:
I also found it at The Sun papers website: http://www.sbsun.com/lifestyle/20150301/fairplex-hosts-pomona-swap-meet-and-classic-car-show
New pix: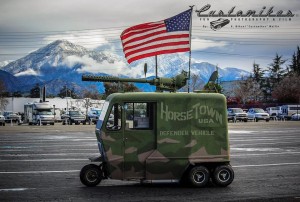 Thanks EzShop Rod for sharing your capture from Pomona Swap Meet with all of us here at Customikes!!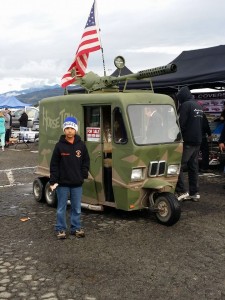 If you see it anywhere else I'd really would appreciate it if you could please link us up =D