Blackie,… RIP,…
We were all saddened with the recent passing of Blackie Gejeian. He was a great guy and was loved by many. He loved his fans too.
Page 1 of 2. Link at bottom of page for your convenience.
There was no limits to him when it came to interacting with those who idolized him, and there were many. In the past several years it became harder and harder on him to attend events, but he loved the people so much that he would almost have to be bedridden to miss an event. I never rode home with him after an event, but my guess is that he was exhausted.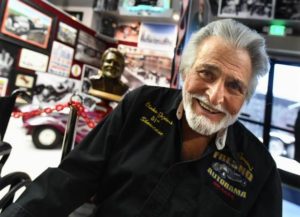 He was such a visible and approachable person. Never turning anyone away. When people would come up to him and say "Hey Blackie" he would always respond 'Hey Hoss" to them with the excitement of someone seeing a friend they had known for years. He made everyone feel like his friend, and he loved that. His smile and his manner were captivating and he instantly made you feel comfortable whether you were an old friend or meeting him for the first time. Some celebrities give the impression that you are invading them on their "off" time, but never Blackie. Quite the opposite. At a show just look for a group of people meandering though the show and in the middle was Blackie. Always surrounded by his friends and admirers.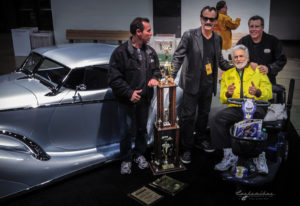 I would see Blackie each year at GNRS and Cruising Santa Maria as well as other events and gatherings. We would talk and laugh for a while about cars and old racing stories and drivers I remembered from my childhood. He had endless stories. The stories. How I will miss those. He would always show up for GNRS on set up day. There are less people at the show during set up, but for me, working the show, it is one of my busiest days. I would hear a "hey Jim" in that gravelly voice and work became secondary. It was really the only time we could visit without being interrupted by a handshake or a selfie. Does anyone ever remember him saying no to a selfie with someone? I think not. There must be 1000's of them floating around, yet in all the years I knew him, I never took one.
Speaking of pictures I am reminded that it was just 2 years ago I was was collecting signatures for the Veterans tool box in Santa Maria. It was a project to raise money to help our Vets and Myself & K. Mikael Wallin collected over 50 of our hobbies legends signatures It sad that in the 2 years since, we have lost so many of these great legends and more. In this one picture I am having Blackie, George, Bill and Gary all sign the box. All are now gone.
With the passing of each of my friends, my heart gets heavier with the sense of loss of these great men. Men that I grew up idolizing. Men that pioneered the car building phenomena. That took chances with rolling sheet metal that Detroit cookie cuttered out by the millions. Cars that when you drove down the street, you didn't go far until you passed one just like yours. These men changed that by changing the looks of the cars. Making each one unique and special.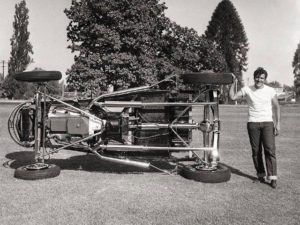 Most of my childhood friends followed sports, collecting player stats and sports memorabilia. I had no interest in sports. All of my focus for as long as memory serves has been focused on cars. From an early age, all I could see when looking at a car was how to change it and, in my eyes, making it better. I couldn't wait each month for all the car magazines to come out so I could pour over them drooling over the pictures of these masters work and the creations they would dream up and create. Rolling works of art that I cut out and pinned all over my walls. I doubt they knew how much they influenced my teen life and then later in life to get to know them as my friends has been such a blessing
 With Blackie's passing another great has left this world. He will be missed by so many of us!
Rest in peace Blackie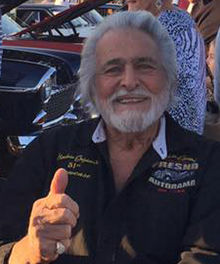 Thanks for hanging at Customikes!!