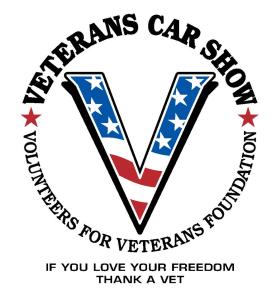 Honored to be asked to be a part of this effort for veterans 🙂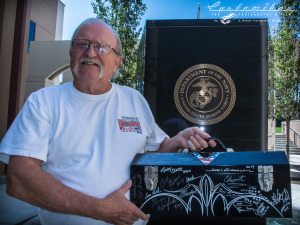 A moment in time, which now feels like a very long time ago, Jim St Pierre approached me with this industry legends toolbox for veterans idea. His goal was to get eight signatures of legends in our kustom kulture industry. You know, the ones that impact us gear heads everyday; Chip Foose, George Barris, Gene Winfield and the like. Jim figured I could help a little with awareness in our social media and maybe I knew a couple of people to ask,….
Jim got Penny Pichette (Queen of kustoms) involved and the door to West Coast Kustoms Hall of Fame opened. We had the incredible privilege to have many more legends like Steve Stanford, Bill Hines and the late Jack Stewart (RIP) sign and generously lend their support for our veteran's. I found the energy levels and sincerity by all both intoxicating and motivating.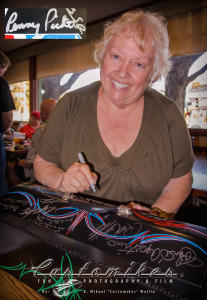 Then Jim arranged for us to hit LA Roadster Show. If I remember correctly, I was able to meet, greet and have 17 industry celebrities, many whom I'm also incredibly fortunate to call my friends, sign the Veterans Toolbox. Larry, Betty, Butch, Jim and the entire Volunteers for veterans/Veterans Car Show Crew have supported and worked diligently towards the success of this legendary piece of kustom kulture collectible!!! Now that I look back at this incredible journey to meet most of them and have the privilege to document 53 industry legend signatures and/or multiple signed collector item contributions. I'm truly humbled and grateful to all involved.
This once in a lifetime Veterans Toolbox, auction opportunity is coming up on October 5th, during the Veterans Car Show at the Loma Linda VA Hospital. Pre-qualified phone bidding can be arranged for those unable to attend this awesome 1200 car, filled to capacity car show!! Contact Jim St Pierre or Larry Volk for pre qualification and phone bid info.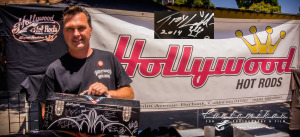 Customikes Fun Photography and Film are very excited to present you with this video (shown below) documenting all signatures and the signed collectible contributions (as of 9/25/14)
All Proceeds go to deserving veterans in need. See Volunteers for Veterans Website for details.  

 Full list of the 53 Celebrities that generously signs, supports and/or contributes signed priceless collector items to auction for our vet's!!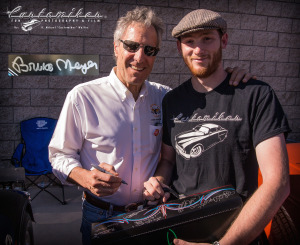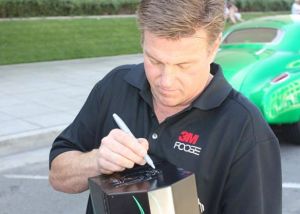 Celebrity list, in no particular order. I promise!! The video is just below it =D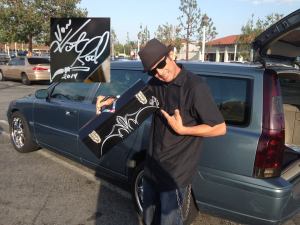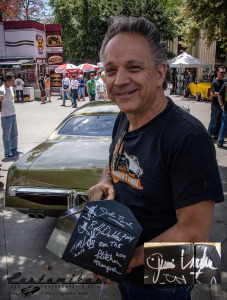 A Shout Out and a Sincere Thank You to all involved in our efforts. None to small, all our dedicated volunteers efforts are valued and worthy of consideration and gratitude.

[su_youtube_advanced url="https://www.youtube.com/watch?v=ukP4kfa7RKU" modestbranding="yes"]https://www.youtube.com/watch?v=hQtBJmtQXgQ[/su_youtube_advanced]

Legends Toolbox with be offered for sale Oct 5 2014 at the live auction at approximately 2:00 PM. The auction will take place at the main stage.

The highest bidder will take home this once in a lifetime piece of automobile memorabilia. It is signed by 50 of the past and present legends of the hot rod and custom world. A complete list is shown above. This box has been all over the State gathering the names you see here. One name, a true legend, Jack Stewart, passed away not long after signing the box. Von Hotrod did the pin striping and lettering while yours truly, K. Mikael Wallin had the incredible honor to shot the photos and promotion =D

Also enclosed with the box is an American flag flown in Iraq, and a copy of Rodders Journal autographed by Steve Stanford. There are also autographed tools that have been sent in, that will be included in this package.

Click here to see the Steve Stanford donation video

Cash and credit cards are acceptable in person the auction, as well as pre-qualified phone bidders. 100% of funds raised goes directly to our Vets and your donation is 100% tax deductible

Thank You so much from us all here at Customikes Fun Photography and Film and from everyone at Volunteers for veterans/Veterans Car Show!!
K. Mikael Wallin aka Customikes